The Young Ones - (1961) - Netflix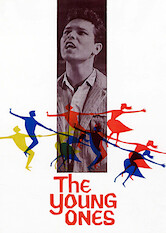 How To Unblock Every Movie & TV Show on Netflix No Matter Where You Are
1h48m -
Classic Movies
When his tycoon father tries to demolish the hangout of neighborhood teens, aspiring pop singer Nicky Black aims to put on a show to save the club.
Director:

Sidney J. Furie

Cast:

Cliff Richard

,

Robert Morley

,

Carole Gray

,

The Shadows

,

Teddy Green

,

Richard O'Sullivan

,

Melvyn Hayes

,

Annette Robertson

,

Robertson Hare

,

Sonya Cordeau

,

Sean Sullivan

Netflix Rating:

8.2/5
Rotten Tomatoes Score:
NA
Countries Available in:

Not available where you live? Learn how to unblock Netflix & watch this title.

Available Since:
2022-01-01
Similar Titles:

Synopsis
Vyvyan (Adrian Edmondson) Rick (Rik Myall) Mike (Christopher Ryan) and Neil (Nigel Planer) are four college students who share a house in North London: Vyvyan is a violent punk who smashes everything to pieces Rick is a political fan of Cliff Richard Mike is the serious and bossy cool person and Neil is the depressed hippie who does most of the cooking and cleaning in the house and his only desire is to commit suicide. Vyvyan Rick Mike and Neil pay their rent to their Russian landlord Jerzy Balowski (Alexei Sayle) and his various family members. The world of this show is surreal hilarious and violent as the show also interacts with other characters and featured live performances from bands.
Other Titles Being Viewed Right Now