The Angry Silence - (1960) - Netflix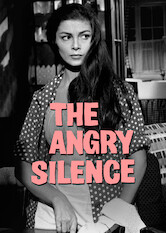 How To Unblock Every Movie & TV Show on Netflix No Matter Where You Are
1h35m -
Classic Movies
When the union in his factory walks out on strike, a family man refuses to participate, risking the wrath — and retaliation — of his fellow workers.
Director:

Guy Green

Cast:

Richard Attenborough

,

Pier Angeli

,

Michael Craig

,

Bernard Lee

,

Alfred Burke

,

Penelope Horner

,

Michael Wynne

,

Norman Bird

,

Gerald Sim

,

Brian Bedford

,

Oliver Reed

Netflix Rating:

7.3/5
Rotten Tomatoes Score:
80/100
Countries Available in:

Not available where you live? Learn how to unblock Netflix & watch this title.

Available Since:
2021-10-06
Trailer:
Similar Titles:

Synopsis
The right of every individual to be different from his fellow man is the theme behind this internationally-hailed British production. The story tells of a man's dilemma when he refused to participate in an unofficial strike where he works. While vicious calculated violence brings the other dissenters into line he goes it alone and is sent to Coventry (given the silent treatment) by his fellow workers. A stirring thought-provoking movie that portrays the human problems and high emotions generated when a man dares to act on the courage of his convictions and dares fight to keep his individual freedom.
Other Titles Being Viewed Right Now