Went the Day Well? - (1942) - Netflix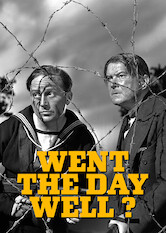 How To Unblock Every Movie & TV Show on Netflix No Matter Where You Are
1h32m -
Classic Movies
In 1942, a quiet British village receives unexpected visitors: German soldiers. Taken captive, the villagers jump into action to save the country.
Director:

Alberto Cavalcanti

Cast:

Leslie Banks

,

C.V. France

,

Valerie Taylor

,

Marie Lohr

,

Harry Fowler

,

Norman Pierce

,

Frank Lawton

,

Elizabeth Allan

,

Thora Hird

,

Edward Rigby

,

Basil Sydney

,

David Farrar

,

Mervyn Johns

Netflix Rating:

7.5/5
Rotten Tomatoes Score:
93/100
Countries Available in:

Not available where you live? Learn how to unblock Netflix & watch this title.

Available Since:
2022-01-01
Trailer:
Similar Titles:

Synopsis
The residents of a British village during WWII welcome a platoon of soldiers who are to be billeted with them. The trusting residents then discover that the soldiers are Germans who proceed to hold the village captive.
Other Titles Being Viewed Right Now