Quantum of Solace - (2008) - Netflix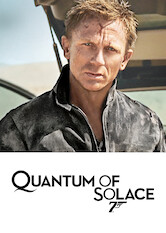 1h46m -
Action & Adventure
How To Unblock Every Movie & TV Show on Netflix No Matter Where You Are
1h46m -
Action & Adventure
Picking up an hour after the events of 2006's Casino Royale, this James Bond adventure finds 007 tracking a traitor who's infiltrated Britain's MI6.
Director:

Marc Forster

Cast:

Daniel Craig

,

Olga Kurylenko

,

Mathieu Amalric

,

Judi Dench

,

Giancarlo Giannini

,

Gemma Arterton

,

Jeffrey Wright

,

David Harbour

,

Jesper Christensen

,

Anatole Taubman

Netflix Rating:

6.6/5
Rotten Tomatoes Score:
64/100
Countries Available in:

Not available where you live? Learn how to unblock Netflix & watch this title.

Available Since:
2022-01-01
Trailer:
Similar Titles:

Synopsis
Is there solace in revenge? Bond and "M" sniff a shadowy international network of power and corruption reaping billions. As Bond pursues the agents of an assassination attempt on "M," all roads lead to Dominic Greene, a world-renowned developer of green technology. Greene, a nasty piece of work, is intent on securing a barren area of Bolivia in exchange for assisting a strongman stage a coup there. The CIA looks the other way, and only Bond, with help from a retired spy and from a mysterious beauty, stands in Greene's way. "M" wonders if she can trust Bond, or if vengeance possesses him. Beyond that, can anyone drawn to Bond live to tell the tale?
Other Titles Being Viewed Right Now