The Happytime Murders - (2018) - Netflix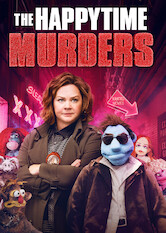 1h31m -
Action & Adventure
How To Unblock Every Movie & TV Show on Netflix No Matter Where You Are
1h31m -
Action & Adventure
When his felt friends start showing up dead, a disgraced puppet P.I. does all he can to solve the case -- even team up with his old human partner.
Director:

Brian Henson

Cast:

Joel McHale

,

Dorien Davies

,

Mitch Silpa

,

Michael McDonald

,

Leslie David Baker

,

Melissa McCarthy

,

Bill Barretta

,

Maya Rudolph

,

Cynthy Wu

,

Elizabeth Banks

Netflix Rating:

5.3/5
Rotten Tomatoes Score:
0/100
Countries Available in:

Not available where you live? Learn how to unblock Netflix & watch this title.

Available Since:
2019-04-16
Trailer:
Similar Titles:

Synopsis
A murder mystery set in a world where humans and puppets co-exist, but puppets are viewed as second-class citizens. When the puppet cast of an '80s children's TV show begins to get murdered one by one, a former cop, who has since become a private eye, takes on the case.
Other Titles Being Viewed Right Now