Bright: Samurai Soul - (2021) - Netflix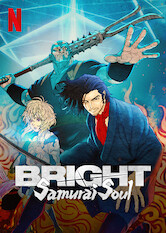 1h20m -
Action & Adventure
How To Unblock Every Movie & TV Show on Netflix No Matter Where You Are
1h20m -
Action & Adventure
In the early years of Japan's Meiji Restoration, a human ronin must unite with an orc assassin to save an elf orphan from their common adversary.
Director:

Kyohei Ishiguro

Cast:

Yuki Nomura

,

Daisuke Hirakawa

,

Shion Wakayama

,

Miyavi

,

Maaya Sakamoto

,

Kenjiro Tsuda

,

Chafurin

,

Mamoru Miyano

,

Kenichi Suzumura

,

Simu Liu

,

Fred Mancuso

,

Yuzu Harada

Netflix Rating:

0.0/5
Rotten Tomatoes Score:
NA
Countries Available in:

Not available where you live? Learn how to unblock Netflix & watch this title.

Available Since:
2021-10-13
Trailer:
Similar Titles:

Synopsis
Set in Japan during the end of the Shogunate and the beginning of the Meiji period the film will follow a one-eyed wandering samurai named Izo (Simu Liu) and an orc named Raiden (Fred Mancuso) as they work to bring a young elf girl (Yuzu Harada) and the wand she carries to the land of the elves in the north.
Other Titles Being Viewed Right Now