Deadly Switch - (2019) - Netflix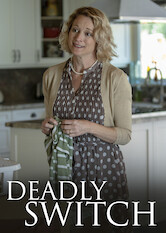 1h26m -
Independent Movies
How To Unblock Every Movie & TV Show on Netflix No Matter Where You Are
1h26m -
Independent Movies
In this indie thriller, a foreign exchange student moves in with her roommate's family who grieves over the daughter they would do anything to get back.
Director:

Svetlana Cvetko

Cast:

Ashlyn Pearce

,

Bryce Durfee

,

Danika Yarosh

,

Teri Polo

,

Heather Mazur

,

Dylan Walsh

,

Hayley McLaughlin

,

Matt Passmore

Netflix Rating:

4.5/5
Rotten Tomatoes Score:
NA
Countries Available in:

Not available where you live? Learn how to unblock Netflix & watch this title.

Available Since:
2020-09-05
Similar Titles:

Synopsis
When a foreign exchange student, Ana, studying abroad in America becomes the target of a dangerous stalker, she accepts the invitation to move in with her roommate's family in their idyllic town.
Other Titles Being Viewed Right Now