Terminator: Dark Fate - (2019) - Netflix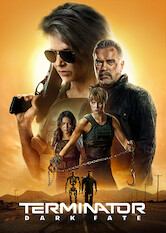 2h8m -
Action & Adventure
How To Unblock Every Movie & TV Show on Netflix No Matter Where You Are
2h8m -
Action & Adventure
In a timeline where Sarah Connor has saved the world from Skynet, a new, more advanced AI threatens to terminate humanity.
Director:

Tim Miller

Cast:

Linda Hamilton

,

Arnold Schwarzenegger

,

Natalia Reyes

,

Mackenzie Davis

,

Gabriel Luna

Netflix Rating:

6.2/5
Rotten Tomatoes Score:
70/100
Countries Available in:

Not available where you live? Learn how to unblock Netflix & watch this title.

Available Since:
2022-01-11
Trailer:
Similar Titles:

Synopsis
A young female Mexican worker Dani Ramos is hunted down by a virtually indestructible terminator from the future called a REV-9. However she is protected by an enhanced human named Grace who is also from the future. They flee from the unstoppable terminator and out of the blue Sarah Connor helps them on the road. All three head to Laredo Texas where Grace has the coordinates of a possible support and where they meet a T-800 who is living in an isolated location with his family. The group teams up to try to destroy the REV-9.
Other Titles Being Viewed Right Now