Occupation: Rainfall - (2020) - Netflix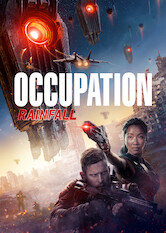 2h8m -
Action & Adventure
How To Unblock Every Movie & TV Show on Netflix No Matter Where You Are
2h8m -
Action & Adventure
After an alien invasion and two years of war, a resistance group discovers a new weapon that just might save the world and its dwindling survivors.
Director:

Luke Sparke

Cast:

Dan Ewing

,

Temuera Morrison

,

Daniel Gillies

,

Lawrence Makoare

,

Zachary Garred

,

Jet Tranter

,

Mark Coles Smith

,

Trystan Go

,

Dena Kaplan

,

David Roberts

,

Izzy Stevens

,

Vince Colosimo

,

Jason Isaacs

,

Ken Jeong

Netflix Rating:

5.7/5
Rotten Tomatoes Score:
47/100
Countries Available in:

Not available where you live? Learn how to unblock Netflix & watch this title.

Available Since:
2021-10-10
Trailer:
Similar Titles:

Synopsis
Two years into an intergalactic invasion of earth survivors in Sydney Australia fight back in a desperate ground war. As casualties mount by the day the resistance and their unexpected allies uncover a plot that could see the war come to a decisive end. With the Alien invaders hell-bent on making earth their new home the race is on to save mankind.
Other Titles Being Viewed Right Now