Great Barrier Reef - (2018) - Netflix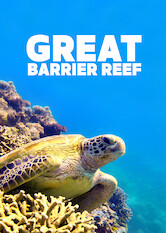 53m -
Science & Nature Documentaries
How To Unblock Every Movie & TV Show on Netflix No Matter Where You Are
53m -
Science & Nature Documentaries
Experience the magnificent underwater spectacle of the world's most diverse marine habitat, and the effort to save it, in this eye-opening documentary.
Director:

Ekrem Engizek

,

Timo Joh. Mayer

Cast:

John Rumney

Netflix Rating:

8.3/5
Rotten Tomatoes Score:
NA
Countries Available in:

Not available where you live? Learn how to unblock Netflix & watch this title.

Available Since:
2021-11-26
Similar Titles:

Synopsis
Monty Halls explores Australia's Great Barrier Reef one of the natural wonders of the world and the largest living structure on our planet. Monty explores its full 2000-kilometre length from the wild outer reefs of the Coral Sea to the tangled mangrove and steaming rainforest on the shoreline; from large mountainous islands to tiny coral cays barely above sea level; from the dark depths of the abyss beyond the reef to colourful coral gardens of the shallows.
Other Titles Being Viewed Right Now